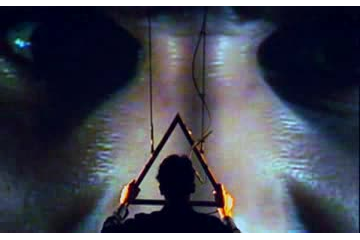 Book Bigger Than Jesus"
Bigger Than Jesus
Bigger than Jesus grapples with the thorny crown of Christianity through conflicting viewpoints, each embodied by a character obsessed with Jesus. A challenging new one-man show featuring the trademark humour and intelligence of Rick Miller.
Necessary Angel and WYRD present
Bigger Than Jesus
by Rick Miller and Daniel Brooks
Rick Miller and Daniel Brooks spent 3 years writing Bigger Than Jesus. The play premiered in 2003, and it has since become an international success story, having been performed in 5 countries and in 4 languages. In 2005, Bigger Than Jesus was nominated for 7 DORA Mavor Moore Awards, and won 3, including Outstanding Production of a Play, Outstanding Performance by a Male in a Principal Role (Rick Miller), and Outstanding Lighting Design (Beth Kates). There are currently 3 productions of Bigger Than Jesus on tour worldwide (in English, French, and German), making it one of Canada's most far-reaching theatrical hits. Interest has been shown in countries as diverse as Israel and Iran! Given the universality and potency of the subject matter, we expect touring to continue well into the next decade.
Bigger Than Jesus is a "sinfully funny" and poignant multi-media 'mass' that questions the mysteries of life and historical and modern viewpoints on Christianity. Weaving together the Catholic liturgy, the gospels, and some good old-fashioned bible-thumpin', Bigger Than Jesus is a truly unique theatrical experience. Director Daniel Brooks and performer Rick Miller carefully juggle reverence and irreverence, creating a show that has played equally well to commercial and avant-garde markets. At times educational, at times enlightening, Bigger Than Jesus is always entertaining.
Critics and audiences worldwide have responded incredibly well to Bigger Than Jesus. The show has been praised by Christians, Jews, Muslims, and atheists alike, often provoking much-needed inter-faith dialogue. Although challenging traditional belief, it never seeks to trivialize it. Instead, what emerges is a "celebration of human spirit" that transcends organized religion. Rick Miller has even been called "the Mel Gibson of the religious left", and Bigger Than Jesus has become a rallying point for 'progressive' Christianity.
Created by Rick Miller and Daniel Brooks
Performed by Rick Miller
Directed by Daniel Brooks
Designed by Beth Kates and Ben Chaisson
"An exciting piece of multimedia theater with a challenging point of view, Bigger Than Jesus could have a big future... a fast-paced, thought-provoking ride." -Variety
"A fast moving, in your face and provocative piece... Don't miss this." – CBC Radio, Here & Now
"Rick Miller and Daniel Brooks tackled the whole issue of the Messiah with humour, intelligence and superb theatricality"– Toronto Star
"(4 Stars) Outrageously clever... Loaded with humour, dramatic intensity and even moments of horror" - Now Magazine
Visit Show Official Website
Back to Productions