News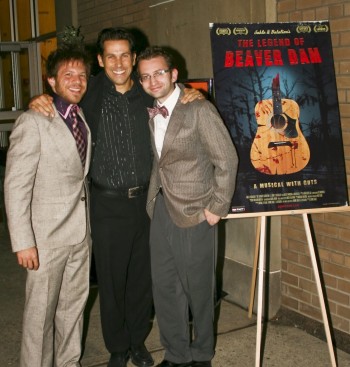 STUMPY SAM slashes through Sundance!
Another prize for THE LEGEND OF BEAVER DAM, this time an honourable mention at the Sundance Film Festival!

Once upon a time, Rick's old friends Jerome Sable and Eli Batalion wrote a horror-musical and asked him to play Stumpy Sam, the evil swamp monster who scares campers and kills Sean Cullen. Rick said yes. Lots of latex and screaming ensued...
Watch the trailer.  Hide your children.
The Sable & Batalion short film premiered at TIFF and has been scooping up prizes all over the world: Atlantic Film Fest (Halifax), Fantastic Fest (Austin), Edmonton International Film Fest, Calgary International Film Fest, Sitges (Spain), BFI (London), Screamfest (L.A.), Leeds (UK), St. Louis Int'l Film Fest, Mar del Plata Film Fest (Argentina) and now Sundance (USA). Next stops: Prague, Clermont Ferrand, Berlin, Vancouver.

Sable & Batalion's "The Legend of Beaver Dam"

story, music, and lyrics by Jerome Sable & Eli Batalion  directed by Jerome Sable
starring L.J. Benet, Seán Cullen, and Rick Miller
"One of the most inventive and groundbreaking horror shorts ever."
- Dread Central

"Future cult classic."
- Toronto Star

"A raucous gem. Beaver Dam will blow your brains and rock your world."
- Fangoria

 "A horror film crossed with Glee... Silly and scary in just the right balance."
- Huffington Post

http://stumpysam.com