News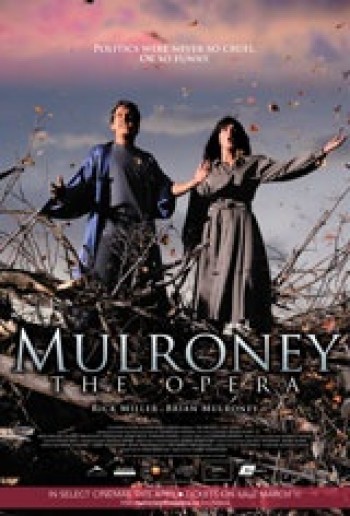 World premiere of Mulroney: The Opera on April 16th!
2 SCREENINGS ONLY!  Join us in one of 72 Cineplex theatres across Canada on April 16th at 1pm for the world premiere of the film Mulroney: The Opera, starring Rick Miller as Mr. Chin himself.  The encore screening is at 7pm on April 27th. 
Buy tickets. 
Watch trailer #1.  Watch trailer #2.  
Watch the 1-Minute Mulroney Make-Over (condensing 3 hours of latex into 60 seconds). 
Watch Rick's TV interviews with CTV (3 interviews, incl Canada AM),  Canadian Press, Zoomer TV, TFO (RELiEF) en français.
Watch Rick's e-talk TV interview with Ben Mulroney...uh...not bloody likely.
Listen to Rick's radio interviews with CBC's Gian Ghomeshi (Q - April 15 podcast), CBC's Dave Bronstetter, CFRB with Jim Richards (April 14 podcast)

Read the reviews: Globe & Mail, Eye Weekly, National Post, Le Soleil, Torontoist.com, Toronto Life, Vancouver Sun
Read the previews: MacLean's, The Toronto Star, Globe and Mail (recent), The Globe and Mail (October 2010), Winnipeg Free Press,  CBC.ca,  The Montreal Gazette, Metro News, Whole Note Magazine (cover story!). 



Rhombus Media, the film company behind such movies as The Red Violin and Passchendaele, has invested $3.75-million into creating a full-scale comedic opera, with a score by Alexina Louie and a libretto by Dan Redican.  The film is directed by Larry Weinstein, who also co-produces with Jessica Daniel.
Joyously irreverent, Mulroney: The Opera blends political satire with an original operatic score. It is at once a comedy, a tragedy and always thoroughly epic in its portrayal of contemporary political life in Canada. Within the 'Holy Grail' of musical forms – the Opera - these stories, scandals and real-life politicians are finally given the larger-than-life platform they deserve.

"Mulroney is played by Rick Miller, known for such one-man stage shows as MacHomer and Hardsell, as well as his versatile appearance in Robert Lepage's nine-hour play, Lipsynch. In this production, he juggles Mulroney's mannerisms with tricky lip-syncing, matching his "schmacting," as he calls it, to the bass baritone of Canadian Daniel Okulitch (best known for his role in the David Cronenberg opera The Fly), who sings Mulroney's part.

As is often the case in his own shows, Miller's acting is exuberant and physical, adding a suitably grand theatricality to his Mulroney character. "Casting Rick sort of opened my eyes about what [the opera] could be," said Weinstein, on the film's set in Nobleton, Ont., north of Toronto. "It could be more fun, more athletic. It's not as dark or edgy [as we once envisioned it]. This is a comedy."
Says Miller, "I think this tragicomic opera is a perfect vehicle, not to make people necessarily love Mulroney again, but to see more nuance in a complicated story of power. I think everyone working on this likes him more than they did before."
The rest of the cast is an assortment of Canadian film, television and theatre mainstays. Colin Mochrie plays Jean Chrétien; Ted Dykstra is Ed Broadbent; Wayne Best takes on Pierre Trudeau; Joe Matheson channels Ronald Reagan; and Sean Cullen is one-time Mulroney cabinet minister Robert Coates. Mila Mulroney is played by Edmonton native Stephanie Anne Mills.