News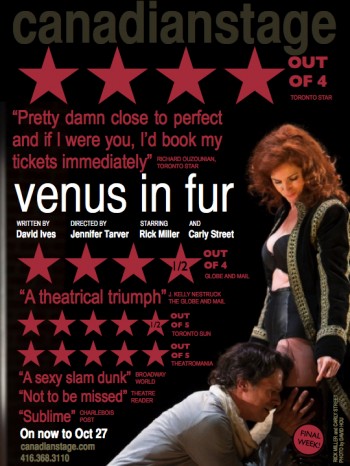 Venus in Fur is back!
Venus in Fur is back, just in time to heat things up for the holidays! This 4-star production is remounting at Canadian Stage's Berkeley Street Theatre. On stage Dec 13-29. Tickets $29-$59. Directed by Jennifer Tarver with Rick Miller and Carly Street reprising their unforgettable roles as Thomas and Vanda. During a season dominated by sugar plum fairies and mice kings, the show called "sexy, sophisticated and side-splittingly funny" (Toronto Star) will be billed as 'the other nutcracker'.
new Toronto Star article

Reviews from Venus in Fur's triumphant Canadian Premiere in the Fall of 2013.
Toronto Star (**** of 4). "Sexy, sophisticated and side-splittingly funny"
Globe and Mail (***1/2 of 4). "Deliciously theatrical"
Theatromania (***** of 5). "A steamy, must-see piece of theatre"
Toronto Sun. (****1/2 of 5). "Both giddy and grown-up"
Charlebois Post. "Venus in Fur is sublime"
Broadway World. "A sexy slam-dunk"
The Theatre Reader. "Not to be missed"
Mooney on Theatre. "Thrilling...a must see for all theatre lovers"
National Post. "Miller brings it off beautifully...Street may be one of the best classical actresses we have"
The GRID. "We're happy to submit to [Street's] comic tyranny."
NOW Magazine. "A bravura acting showcase"
Post City Magazine. "Audience members leaped to their feet like their seats had caught on fire"
Digital Journal. "A terrific night of theatre...submit to it"
https://ls4.co/58e