News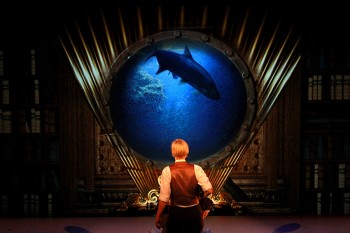 Live from New York: Rave Reviews for 20Kshow's Off-Broadway debut!
The reviews from NY are pouring in... Twenty Thousand Leagues Under The Sea, co-created by Kidoons' Craig Francis and Rick Miller, is an Off-Broadway hit!

"MAGICAL! A frisky adaptation of the Jules Verne sci-fi saga… The acting is never less than zesty and the use of projections is sometimes jaw dropping!" - NY Times

"STUNNING!... Francis and Miller are to be commended for challenging young audiences by staying true to Verne's larger vision… This trip on the Nautilus is worth the plunge." - theatermania

"A MUST-SEE! To say it was amazing doesn't even begin to give this production the credit it deserves, I should add inspiring, creative, mysterious, thought-provoking, and lots of fun for all!" - beyourbestmom.com

"DON'T MISS Twenty Thousand Leagues Under The Sea! When the show ended, my daughter asked me to get the book the next time we go to the library – that's a win-win for me!" - theMamamaven.com

"An astonishing, you-are-there version of the Jules Verne classic tale… The adventure of a lifetime - New York Off-Broadway Buzz

"BEAUTIFUL!... Verne's classic tale comes to life in the hands of director Rick Miller!" - Berkshire Fine Arts

Twenty Thousand Leagues Under The Sea plays from Sept. 30 to Oct. 10, 2016 at The New Victory Theater in NYC. Tickets and info here.
We're booking our 2017-18 season, so if you're looking for an immersive family show with innovative outreach, come and take the plunge with us!
http://ls4.co/2KLV